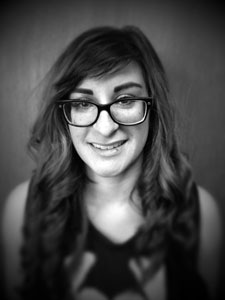 For Shae, experimenting with hair is a passion that sparked at the young age of 4 years old, when Shae's mom colored her bangs bright purple for fun. That fire has since been stoked with learning everything she can about her own hair, and then eventually the hair of others.
It was over 8 years ago that she got her start in professional hair do'ing at the Toni & Guy Hairdressing Academy right here in Bellingham, Washington. Still loving every day in the salon, it is at Studio Galactica that she puts maximum effort into making sure that every one of her clients feels at ease, and that they are in caring hands. She wants every client to feel at home and have a laugh during their time together, while she focuses on giving a beautiful color and a great cut. Whether it's something super fun (like tons of texture, or vivid colors) or something soft and flattering with lots of body and movement, Shae is calculated and unafraid of all hair types and thicknesses.
Outside of the salon, Shae can be fond somewhere in the high alpin, whether it is mountain biking, dirt biking, skiing or exploring the raw forest. Afterwards, she loves to wind down with Netflix, gaming and all things culinary.