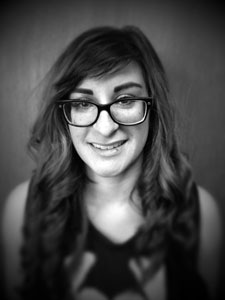 In East San Diego, born and raised,
In the concert venue is where I spent most of my days.
Chillin' out, maxin', relaxin' all cool,
Until my family moved here when I was in high school.
After a couple of years, I found a career that was good,
So, I started cuttin' hair in your neighborhood!
There are flames on the wall, but you don't need to be scared!
I will give you a great cut, and the price ain't unfair!
Okay, so I'm not a professional lyricist, but I am a professional when it comes to your hair. I put a lot of effort into making sure that every one of my clients trusts me. I want you to feel totally comfortable, and hopefully have a good laugh during our time together. Inside the salon, I enjoy doing great color and haircuts, whether it's something super fun (like tons of texture, or using my talent with vivid hair colors), or something soft and flattering with lots of body and movement. I also have great experience in most types of extensions. I am a perfectionist when it comes to installing and cutting / blending all hair types. Outside of the salon, I am a T.V. and movie buff, a huge foodie, an avid video gamer, a newbie mountain biker, a music enthusiast, AND AND AND an everything chocolate addict!
So, now you know tons about me, and I would be honored if you would let me meet your face, and learn everything about you and your hair! I am available most days, except for Sundays.