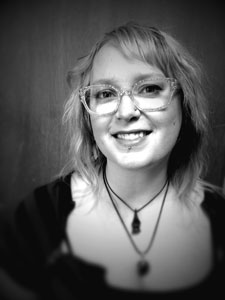 Kimberly is a playful soul. She has a particular love for sci fi movies, 80's music, performance art and the great outdoors. When not at work, you might find her on stage at the Idiom Theater.
Kimberly was educated at Toni and Guy Hairdressing Academy where she earned special accolades for her graduation ceremony stand-up comedy routine. She is the kind of stylist all people can come to. Kimberly loves big curly hair, perhaps due to the "grass in greener" principle (she has an intimate relationship with fine, straight hair). She has fun with event up-do's, natural highlighting, edgy cuts, fashion colors, and is theonly stylist in the salon to offer perm services. Kimberly likes her job.
Kimberly's second favorite song lyric: "She eats like she got a hole in her neck, and I'm the one who always gets stuck with the check." – Girls Just Wanna Have Lunch, Weird Al Yankovic.